Joseph Roselaar
28 September 2018 - 13:45
Joseph Roselaar was seventeen, when he finished training as a briljant polisher in 1906. Joseph's brother Hijman trained as a brilliant polisher as well but left the trade after five years. In 1908 Joseph joined the Algemene Nederlandse Diamantbewerkersbond [General Diamond Workers' Union of the Netherlands] (ANDB). He paid his dues faithfully and in return received benefits from the union when he was unemployed. In 1915 Joseph married Marianne Theeboom, and they had two daughters: Sophie and Eva. In 2012 Eva recalled:
He earned a decent living there. During the 1920s and thereafter he was regularly unemployed. Then he received benefits via the ANDB trade union. On Friday afternoons father would report to the union office on Plantage Franschelaan to have his card stamped. He then took that stamp to another desk, where he collected his benefit of nine guilders. Nine guilders in support was not bad in those days. He received this support, because he was a member of the ANDB. He had already been a member for years. The duration of the benefit depended on how long he had been a member.
The rear of Joseph's membership card shows how much and how often he received support from the ANDB. 
In 1942 Joseph Roselaar, who was Jewish, had to transfer to Betsalel, the Jewish trade union: the German forces of occupation had prohibited Jews from belonging to 'general' organizations. The ANDB had been placed under NSB administration some time earlier. Joseph continued working until August 1942. At the bottom of his final wage card are the words 'card not submitted.' On 6 August Joseph Roselaar was arrested. He was transported to Westerbork, and on 30 September 1942 he was murdered in Auschwitz.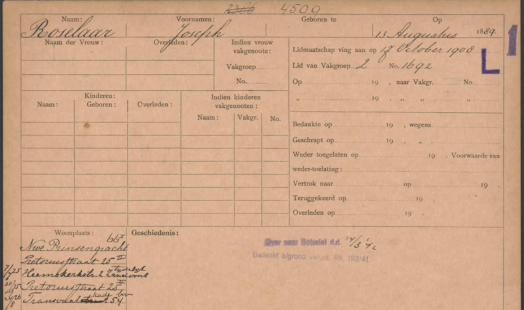 Joseph Roselaar | Membership card, front side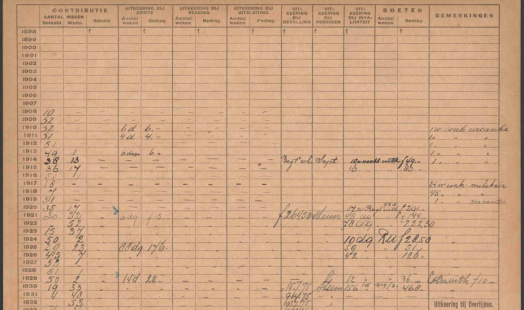 Joseph Roselaar | Membership card, back side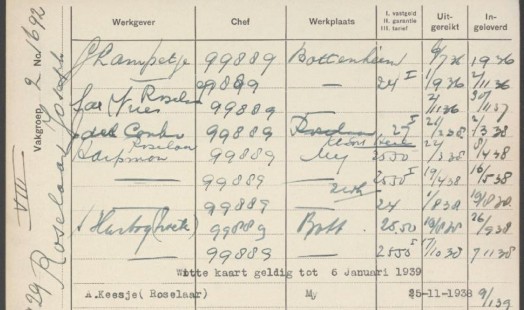 Joseph Roselaar | Card with wage data VIII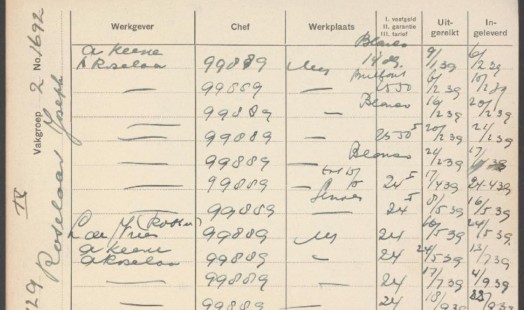 Joseph Roselaar | Card with wage data IX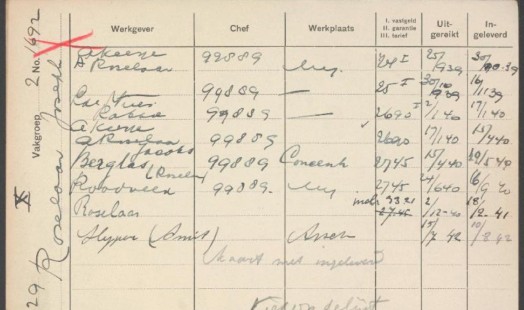 Joseph Roselaar | Card with wage data X